New Vice County Macro Moth Species
Page last updated with NMRS data from December 2016.
The number of macro moth species recorded in the NMRS database for each Vice County is shown in the following chart. The Vice County numbers and their names are shown in the new species list further down the page.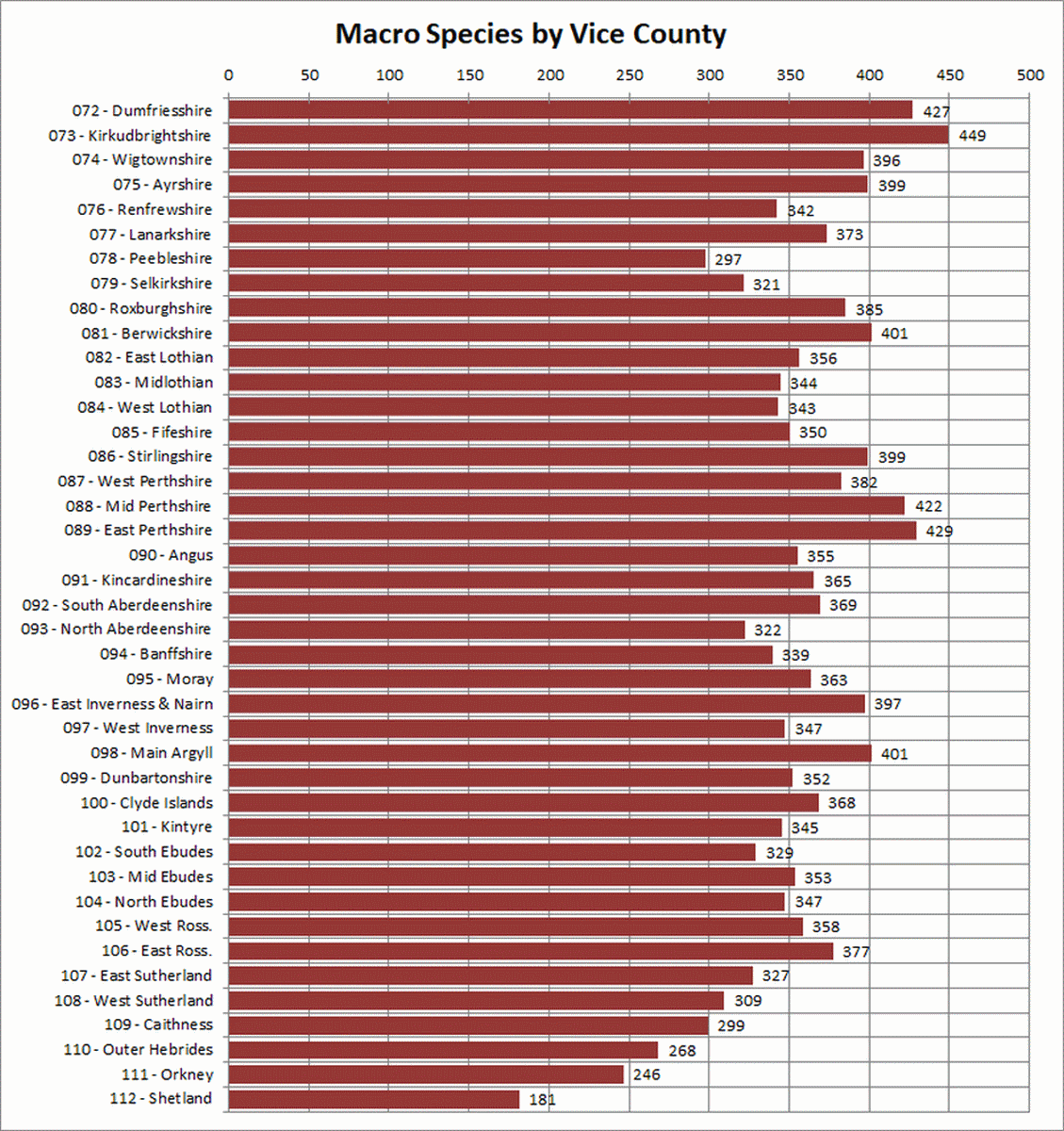 The list below lists the species added to each Scottish VC list since the beginning of 2012 as held in the Butterfly Conservation administered National Macro Moth Recording Scheme database. This may be in excess of a year after a new species is recorded as the record needs to be submitted to the County Moth Recorder who will normally make an annual submission to the NMRS and these records then need to be uploaded into the database.
VC67 South Northumberland ( species from 222,869 records. Most recent record for county in database is 22/05/2015)

Silky Wainscot (08/08/2012)
Lead-coloured Drab (30/03/2012)
VC68 North Northumberland (Cheviotland) ( species from 87,862 records. Most recent record for county in database is 04/05/2015)

Yellow-tail (17/06/2014)
Plain Clay (14/08/2013)
Large Twin-spot Carpet (24/07/2013)
Scallop Shell (01/08/2012)
VC70 Cumberland ( species from 85,644 records. Most recent record for county in database is 25/09/2016)

Blackneck (31/05/2016)
Ear Moth (22/09/2015)
Lesser Common Rustic (03/08/2015)
Obscure Wainscot (01/07/2015)
Silky Wainscot (29/06/2015)
November Moth (10/11/2014)
Pale November Moth (12/10/2014)
Autumnal Moth (12/10/2014)
Clay Triple-lines (18/07/2014)
Scarce Footman (15/07/2014)
Welsh Clearwing (23/06/2014)
Marbled Minor (13/06/2014)
Tawny Marbled Minor (13/06/2014)
Bilberry Pug (24/05/2014)
Blood-Vein (17/06/2013)
VC72 Dumfriesshire (427 species from 68,868 records. Most recent record for county in database is 28/12/2015)

Narrow-bordered Five-spot Burnet (30/07/2015)
Silky Wainscot (13/07/2015)
Devon Carpet (05/06/2015)
Valerian Pug (06/08/2012)
VC73 Kirkudbrightshire (449 species from 69,707 records. Most recent record for county in database is 05/11/2015)

Devon Carpet (03/07/2015)
Beautiful Snout (20/06/2015)
Dingy Shears (24/07/2012)
Cloaked Pug (13/07/2012)
VC74 Wigtownshire (396 species from 13,972 records. Most recent record for county in database is 08/10/2015)

Crinan Ear (27/08/2013)
Devon Carpet (27/08/2013)
VC75 Ayrshire (399 species from 62,268 records. Most recent record for county in database is 24/12/2013)

Least Yellow Underwing (04/09/2013)
Beech-green Carpet (16/08/2013)
Dwarf Cream Wave (03/08/2013)
Treble Brown Spot (15/07/2013)
Dog's Tooth (15/07/2013)
Thyme Pug (15/07/2013)
Orange Underwing (27/04/2013)
Archer's Dart (17/08/2012)
Dark Chestnut (17/08/2012)
Lesser Treble-bar (27/05/2012)
VC76 Renfrewshire (342 species from 28,332 records. Most recent record for county in database is 04/06/2014)

Grey Arches (20/07/2013)
Lunar Hornet Moth (17/07/2012)
Purple Thorn (16/07/2012)
Seraphim (28/05/2012)
VC77 Lanarkshire (373 species from 17,350 records. Most recent record for county in database is 15/12/2015)

Blair's Shoulder-knot (16/10/2015)
Narrow-bordered Five-spot Burnet (07/08/2015)
Scalloped Hook-tip (05/08/2015)
Buff Footman (05/08/2015)
Valerian Pug (21/07/2015)
Shaded Pug (14/07/2015)
Small Dusty Wave (10/07/2015)
Figure of Eighty (01/07/2015)
Dark Chestnut (08/04/2015)
Northern Deep-brown Dart (03/09/2014)
Scallop Shell (26/06/2014)
Narrow-bordered Bee Hawk-moth (21/06/2014)
Saxon (21/06/2014)
Drinker (20/06/2014)
Pebble Hook-tip (13/06/2014)
Alder Moth (12/06/2014)
Netted Pug (07/06/2014)
Oak Beauty (25/03/2014)
Anomalous (21/08/2013)
Lesser Treble-bar (19/08/2013)
Minor Shoulder-knot (09/08/2013)
Flounced Chestnut (28/07/2013)
Small Rufous (16/07/2013)
Brussels Lace (06/07/2013)
Pale Prominent (21/06/2013)
Dotted Carpet (10/08/2012)
Freyer's Pug (24/06/2012)
Coronet (27/05/2012)
Seraphim (26/05/2012)
Lunar Marbled Brown (26/05/2012)
Yellow Horned (23/03/2012)
VC78 Peebleshire (297 species from 12,968 records. Most recent record for county in database is 27/11/2015)

Brussels Lace (07/07/2015)
Seraphim (24/06/2015)
Yellow-barred Brindle (12/06/2015)
Lead-coloured Drab (02/04/2015)
Pale Mottled Willow (17/09/2014)
Marbled Beauty (12/07/2014)
Narrow-bordered Five-spot Burnet (08/07/2014)
Oblique Carpet (27/06/2014)
Saxon (20/06/2014)
Shoulder-striped Wainscot (20/06/2014)
Beautiful Carpet (13/06/2014)
Thyme Pug (13/06/2014)
Ruddy Highflyer (19/05/2014)
Striped Twin-spot Carpet (19/05/2014)
Small Engrailed (10/05/2014)
Lunar Marbled Brown (07/05/2014)
Oak Beauty (04/04/2014)
Small Chocolate-tip (06/08/2013)
Peach Blossom (21/07/2013)
Coronet (12/07/2013)
Welsh Wave (02/08/2012)
Bedstraw Hawk-moth (16/07/2012)
Broken-barred Carpet (14/06/2012)
VC79 Selkirkshire (321 species from 11,389 records. Most recent record for county in database is 29/02/2016)

Buff Footman (29/08/2015)
Tawny Marbled Minor (10/07/2015)
Muslin Moth (15/06/2015)
Gem (09/08/2014)
Brindled Ochre (23/09/2013)
Golden-rod Brindle (26/08/2013)
Northern Winter Moth (07/11/2012)
Scarce Bordered Straw (19/10/2012)
Dingy Shears (10/08/2012)
Chamomile Shark (03/05/2012)
VC80 Roxburghshire (385 species from 73,462 records. Most recent record for county in database is 03/02/2016)

Drinker (16/07/2014)
Smoky Wave (01/07/2014)
Lime-speck Pug (20/07/2013)
Buff Arches (17/07/2013)
Heart & Club (08/07/2013)
Cloaked Pug (03/07/2013)
Light Knot Grass (25/06/2013)
Purple Thorn (22/08/2012)
Orange Underwing (26/03/2012)
VC81 Berwickshire (401 species from 32,343 records. Most recent record for county in database is 01/11/2015)

Northern Arches (06/08/2015)
Pimpinel Pug (02/07/2014)
Small Engrailed (31/05/2014)
Haworth's Pug (12/07/2013)
Small Yellow Wave (26/06/2013)
Large Red-belted Clearwing (04/06/2013)
Maple Pug (16/08/2012)
VC82 East Lothian (Haddingtonshire) (356 species from 26,561 records. Most recent record for county in database is 05/11/2016)

Nutmeg (24/08/2016)
Exile (21/08/2016)
Southern Wainscot (23/07/2016)
Netted Pug (21/06/2016)
Red Twin-spot Carpet (03/06/2016)
Dusky-lemon Sallow (26/09/2015)
September Thorn (21/08/2015)
Shuttle-shaped Dart (13/08/2015)
Lesser Common Rustic (18/07/2015)
Bordered Straw (09/07/2015)
Silky Wainscot (15/06/2015)
Scarce Prominent (03/05/2015)
Early Grey (08/04/2015)
Death's-head Hawk-moth (22/10/2014)
Blair's Shoulder-knot (28/09/2014)
Large Ear (19/09/2014)
Crinan Ear (08/08/2014)
Large Twin-spot Carpet (29/07/2014)
Olive (28/07/2014)
Common Footman (25/07/2014)
Dotted Carpet (25/07/2014)
Triple-spotted Pug (25/07/2014)
Buff Footman (15/07/2014)
Plain Pug (06/07/2014)
Obscure Wainscot (23/06/2014)
Clouded Brindle (22/06/2014)
Small Clouded Brindle (05/06/2014)
Seraphim (25/05/2014)
Haworth's Minor (21/08/2013)
Double Lobed (03/08/2013)
Satin Beauty (02/08/2013)
Angle-barred Pug (02/08/2013)
Dot Moth (20/07/2013)
Magpie (17/07/2013)
Lesser Treble-bar (14/07/2013)
Peach Blossom (11/07/2013)
Beautiful Carpet (02/07/2013)
Scorched Wing (31/05/2013)
Dark Chestnut (12/11/2012)
Pinion-streaked Snout (04/08/2012)
Dingy Shears (03/08/2012)
Large Emerald (01/08/2012)
Welsh Wave (01/08/2012)
Cloaked Minor (31/07/2012)
Larch Pug (24/07/2012)
Figure of Eighty (24/07/2012)
Small Fan-foot (21/07/2012)
Ochreous Pug (29/05/2012)
Pale Prominent (28/05/2012)
VC83 Midlothian (Edinburgh) (344 species from 31,593 records. Most recent record for county in database is 12/12/2015)

Red Carpet (19/08/2015)
Dotted Carpet (14/08/2015)
Northern Rustic (12/08/2015)
Buff Ermine (04/07/2015)
Buff Footman (28/07/2014)
Sloe Pug (04/07/2014)
Narrow-bordered Five-spot Burnet (02/07/2014)
Small Purple-barred (13/06/2014)
Speckled Yellow (31/05/2014)
Scarce Prominent (27/04/2014)
Early Grey (15/04/2014)
Scarce Bordered Straw (08/02/2014)
Least Black Arches (16/06/2013)
Pretty Pinion (14/06/2013)
Lesser Treble-bar (12/08/2012)
VC84 West Lothian (Linlithgowshire) (343 species from 42,645 records. Most recent record for county in database is 30/09/2016)

Southern Wainscot (18/07/2016)
Saxon (11/06/2016)
Dark Tussock (04/07/2015)
August Thorn (30/09/2014)
Buff Footman (24/07/2014)
Small Yellow Wave (20/06/2014)
Mother Shipton (18/05/2014)
Clouded Brindle (29/07/2013)
Annulet (26/07/2013)
Square-spotted Clay (14/07/2013)
Grey Arches (01/08/2012)
Scorched Wing (01/06/2012)
VC85 Fifeshire (350 species from 41,042 records. Most recent record for county in database is 10/07/2015)

Scallop Shell (10/07/2015)
Valerian Pug (19/06/2015)
Toadflax Pug (28/08/2014)
Olive (30/07/2014)
Pimpinel Pug (15/07/2014)
Scorched Wing (26/05/2014)
Ochreous Pug (16/05/2014)
Small Autumnal Moth (08/09/2013)
Copper Underwing (21/08/2013)
Dark Spectacle (24/07/2013)
Dingy Shears (20/07/2013)
Pinion-streaked Snout (17/07/2013)
Mullein (14/07/2013)
White Colon (15/06/2013)
Shore Wainscot (06/05/2013)
Birch Mocha (19/07/2012)
Figure of Eighty (17/07/2012)
Small Yellow Wave (30/06/2012)
VC86 Stirlingshire (399 species from 140,223 records. Most recent record for county in database is 27/08/2016)

Figure of Eighty (06/07/2015)
Oleander Hawk-moth (19/11/2014)
Square-spot Dart (27/08/2014)
Southern Wainscot (16/07/2014)
White-pinion Spotted (30/05/2014)
Scarce Bordered Straw (18/10/2013)
Beautiful Yellow Underwing (17/09/2013)
Freyer's Pug (04/08/2013)
Triple-spotted Pug (21/07/2013)
Chinese Character (25/06/2013)
Small Engrailed (03/06/2013)
Alder Moth (27/05/2012)
VC87 West Perthshire (382 species from 22,761 records. Most recent record for county in database is 27/06/2016)

Death's-head Hawk-moth (14/10/2015)
Dark Spinach (20/08/2015)
Buff Footman (20/08/2015)
Cinnabar (07/07/2015)
Lesser Treble-bar (01/09/2014)
Acleris (24/08/2014)
Chinese Character (12/06/2014)
Slender-striped Rufous (10/09/2013)
Tissue (03/09/2013)
Uncertain (07/08/2013)
Dingy Shears (03/08/2013)
Bilberry Pug (27/07/2013)
Southern Wainscot (13/07/2013)
Figure of Eighty (20/06/2013)
Oak-tree Pug (20/04/2013)
Brussels Lace (27/06/2012)
Beautiful Snout (27/05/2012)
VC88 Mid Perthshire (422 species from 59,459 records. Most recent record for county in database is 05/06/2016)

Small Seraphim (11/08/2015)
Figure of Eighty (24/06/2015)
Marsh Pug (22/06/2015)
Marbled Pug (31/05/2014)
Twin-spotted Wainscot (31/03/2014)
Pale Pinion (14/03/2014)
Small Emerald (16/07/2013)
Galium Carpet (13/07/2013)
Dark Spectacle (16/06/2013)
Acleris (13/04/2013)
Butterbur (23/08/2012)
VC89 East Perthshire (429 species from 29,596 records. Most recent record for county in database is 06/07/2016)

Scarce Silver-lines (25/06/2015)
Small Seraphim (23/05/2015)
Gem (20/11/2014)
Pale Pinion (31/03/2014)
Copper Underwing (21/08/2012)
Satin Lutestring (12/06/2012)
VC90 Angus (Forfarshire) (355 species from 9,485 records. Most recent record for county in database is 12/11/2015)

Flounced Chestnut (27/09/2015)
Broad-bordered White Underwing (12/06/2015)
Birch Mocha (09/06/2015)
Clouded Buff (09/06/2015)
Pale Pinion (04/04/2015)
Lesser Cream Wave (25/07/2014)
Chamomile Shark (03/07/2014)
Humming-bird Hawk-moth (22/06/2014)
Small Argent & Sable (20/06/2014)
Pebble Hook-tip (17/06/2014)
Pretty Pinion (07/06/2014)
Large Nutmeg (28/05/2014)
Mother Shipton (28/05/2014)
Brindled Beauty (18/04/2014)
Small Engrailed (15/04/2014)
Pinion-streaked Snout (03/09/2013)
Angle-striped Sallow (01/09/2013)
Dusky-lemon Sallow (29/08/2013)
Lunar Yellow Underwing (18/08/2013)
Northern Deep-brown Dart (17/08/2013)
Blue-bordered Carpet (02/08/2013)
Buff Footman (02/08/2013)
Square Spot (20/07/2013)
Barred Rivulet (20/07/2013)
Lyme Grass (18/07/2013)
Triple-spotted Pug (09/07/2013)
Ochreous Pug (07/06/2013)
Glaucous Shears (07/06/2013)
Puss Moth (07/06/2013)
Powdered Quaker (04/05/2013)
Shoulder Stripe (25/04/2013)
Narrow-winged Pug (09/10/2012)
Lesser Treble-bar (09/09/2012)
Dotted Rustic (22/08/2012)
Old Lady (14/08/2012)
Anomalous (11/08/2012)
Plain Clay (11/08/2012)
Beech-green Carpet (11/08/2012)
Scotch Annulet (09/08/2012)
Vapourer (09/08/2012)
Pale Eggar (09/08/2012)
Dingy Shears (08/08/2012)
Plain Wave (04/08/2012)
Striped Wainscot (28/07/2012)
Larch Pug (27/07/2012)
Scalloped Hook-tip (17/07/2012)
Saxon (17/07/2012)
Gold Spot (16/07/2012)
Fox Moth (23/06/2012)
Grass Rivulet (20/06/2012)
Small Autumnal Moth (25/05/2012)
Satyr Pug (25/05/2012)
Early Thorn (05/05/2012)
VC91 Kincardineshire (365 species from 35,188 records. Most recent record for county in database is 11/01/2016)

Brindled Green (09/09/2015)
Grey Arches (03/07/2014)
Vestal (12/09/2013)
Drinker (25/07/2013)
Pinion-streaked Snout (11/07/2013)
Freyer's Pug (09/06/2012)
VC92 South Aberdeenshire (369 species from 66,810 records. Most recent record for county in database is 18/12/2015)

Bordered Straw (28/08/2015)
Triple-spotted Clay (13/08/2015)
VC93 North Aberdeenshire (322 species from 14,427 records. Most recent record for county in database is 07/11/2015)

Twin-spotted Quaker (21/04/2015)
Ruddy Highflyer (07/08/2014)
Slender Brindle (03/08/2013)
Pinion-streaked Snout (24/07/2013)
Beautiful Carpet (12/07/2013)
Treble-bar (11/07/2013)
VC94 Banffshire (339 species from 39,636 records. Most recent record for county in database is 20/12/2015)

Straw Dot (11/07/2014)
Powdered Quaker (17/05/2014)
Bordered Beauty (06/08/2013)
Common Footman (14/07/2013)
Dingy Shell (19/08/2012)
Dark Spinach (19/08/2012)
VC95 Moray (Elgin) (363 species from 58,392 records. Most recent record for county in database is 12/03/2016)

Gem (09/10/2014)
Rufous Minor (01/08/2013)
Slender Brindle (01/08/2013)
Valerian Pug (06/07/2013)
VC96 East Inverness & Nairn (Easterness) (397 species from 124,586 records. Most recent record for county in database is 11/02/2016)

Marbled Brown (12/06/2015)
Blomer's Rivulet (21/06/2014)
Buff Ermine (14/06/2014)
VC97 West Inverness (Westerness) (347 species from 11,653 records. Most recent record for county in database is 27/11/2013)

Northern Deep-brown Dart (25/08/2013)
Common Rustic (04/08/2013)
Blomer's Rivulet (14/06/2013)
Lesser Treble-bar (13/07/2012)
VC98 Main Argyll (401 species from 78,069 records. Most recent record for county in database is 27/07/2016)

Bedstraw Hawk-moth (22/08/2015)
Scarce Bordered Straw (11/08/2015)
Small Yellow Underwing (29/06/2015)
Svensson's Copper Underwing (29/08/2014)
Scallop Shell (25/07/2014)
Lilac Beauty (19/06/2014)
Alder Moth (12/06/2014)
Rosy Minor (15/08/2013)
Brindled Beauty (28/02/2013)
Buff Footman (20/08/2012)
VC99 Dunbartonshire (352 species from 8,317 records. Most recent record for county in database is 03/06/2016)

Barred Sallow (05/09/2015)
Buff Footman (26/08/2015)
Small White Wave (07/07/2015)
Beautiful Brocade (01/07/2015)
Small Elephant Hawk-moth (01/07/2015)
Orange Underwing (06/04/2015)
Satin Beauty (07/07/2014)
Freyer's Pug (14/06/2014)
Pale Prominent (11/06/2014)
Chamomile Shark (01/07/2013)
Magpie (01/07/2013)
Scallop Shell (01/01/2013)
VC100 Clyde Islands (368 species from 14,684 records. Most recent record for county in database is 23/12/2014)

August Thorn (31/08/2014)
Great Brocade (16/08/2014)
Slender Brindle (02/08/2014)
Small Yellow Wave (26/06/2014)
Lunar Thorn (05/06/2014)
Svensson's Copper Underwing (03/09/2013)
Bulrush Wainscot (25/08/2013)
Freyer's Pug (12/06/2013)
Dingy Footman (13/08/2012)
Rustic (01/08/2012)
Angle-barred Pug (12/07/2012)
Mottled Pug (17/06/2012)
Speckled Yellow (06/06/2012)
White-pinion Spotted (01/06/2012)
Cream Wave (29/05/2012)
Saxon (29/05/2012)
Narrow-bordered Bee Hawk-moth (25/05/2012)
Small Engrailed (13/03/2012)
VC101 Kintyre (345 species from 14,905 records. Most recent record for county in database is 18/07/2016)

Wood Tiger (20/06/2016)
Clouded Magpie (01/07/2015)
August Thorn (27/09/2013)
Chinese Character (19/08/2013)
Bulrush Wainscot (14/08/2013)
Spinach (03/08/2013)
Buff Footman (03/08/2013)
Grass Emerald (23/07/2013)
Dark Spectacle (18/07/2013)
Annulet (17/07/2013)
Uncertain (16/07/2013)
Scallop Shell (12/07/2013)
Yellow-barred Brindle (02/06/2013)
Satellite (28/02/2013)
Pale Pinion (19/10/2012)
Lesser Common Rustic (25/08/2012)
Ling Pug (04/08/2012)
Fan-foot (04/08/2012)
Grass Rivulet (30/06/2012)
Heart & Club (29/06/2012)
VC102 South Ebudes (329 species from 5,854 records. Most recent record for county in database is 14/06/2015)

December Moth (16/11/2014)
Frosted Orange (31/08/2014)
Double Lobed (01/08/2014)
Chinese Character (30/07/2014)
Marbled Beauty (25/07/2014)
Scallop Shell (23/07/2014)
Lime-speck Pug (08/07/2014)
Gem (12/06/2014)
Silver Hook (09/06/2014)
Slender Pug (03/06/2014)
Alder Moth (24/05/2014)
Golden-rod Pug (23/05/2014)
Ochreous Pug (21/05/2014)
Pale Pinion (21/05/2014)
Clouded Silver (17/06/2013)
Willow Beauty (23/07/2012)
VC103 Mid Ebudes (353 species from 37,571 records. Most recent record for county in database is 17/12/2014)

Single-dotted Wave (23/07/2014)
Marbled Beauty (03/07/2014)
Vapourer (29/06/2014)
Double Lobed (28/07/2013)
Pale Pinion (29/04/2013)
Slender Brindle (12/08/2012)
Slender Pug (12/08/2012)
Oak Nycteoline (24/03/2012)
VC104 North Ebudes (347 species from 28,687 records. Most recent record for county in database is 14/07/2015)

Small Engrailed (22/04/2015)
Exile (18/07/2014)
Small Quaker (29/04/2014)
Small Chocolate-tip (26/06/2013)
Eyed Hawk-moth (08/05/2013)
VC105 West Ross. (358 species from 97,806 records. Most recent record for county in database is 12/07/2015)

Red-necked Footman (30/06/2015)
Lime-speck Pug (19/07/2014)
Dog's Tooth (30/06/2014)
Rustic (14/08/2013)
Twin-spotted Quaker (12/04/2013)
Sweet Gale Moth (21/05/2012)
VC106 East Ross. (377 species from 83,363 records. Most recent record for county in database is 24/03/2016)

Large Wainscot (28/09/2014)
Annulet (18/08/2014)
Grey Carpet (01/08/2014)
Chamomile Shark (13/07/2014)
Slender-striped Rufous (03/09/2013)
Slender Brindle (27/07/2013)
Lyme Grass (25/07/2013)
Marsh Oblique-barred (19/07/2013)
Heart & Club (15/07/2013)
Coronet (20/06/2013)
Lesser Common Rustic (28/07/2012)
VC107 East Sutherland (327 species from 27,586 records. Most recent record for county in database is 16/12/2015)

Swallow-tailed Moth (09/07/2014)
Satin Lutestring (04/07/2013)
Lead Belle (28/06/2013)
Narrow-bordered Bee Hawk-moth (06/06/2013)
Pale November Moth (24/10/2012)
Slender Pug (17/08/2012)
Tawny Marbled Minor (07/08/2012)
Mottled Rustic (26/07/2012)
Uncertain (25/07/2012)
Annulet (25/07/2012)
Lesser Common Rustic (23/07/2012)
VC108 West Sutherland (309 species from 33,109 records. Most recent record for county in database is 03/11/2015)

Small Elephant Hawk-moth (27/09/2014)
Marbled Minor (13/07/2014)
Cinnabar (14/06/2014)
White-spotted Pug (27/05/2014)
Narrow-bordered Bee Hawk-moth (18/05/2014)
Straw Underwing (30/07/2013)
Sweet Gale Moth (11/06/2013)
Broad-bordered White Underwing (02/06/2013)
Brindled Beauty (02/05/2013)
Slender Pug (04/08/2012)
Dark Spinach (21/07/2012)
Spinach (15/07/2012)
VC109 Caithness (299 species from 32,539 records. Most recent record for county in database is 20/12/2014)

Bulrush Wainscot (02/09/2014)
Bedstraw Hawk-moth (13/08/2014)
Blue-bordered Carpet (31/07/2014)
Triple-spotted Clay (18/07/2014)
Beautiful Carpet (10/07/2014)
Brussels Lace (21/06/2014)
Purple Thorn (06/06/2014)
Pale Prominent (03/06/2014)
Tawny-barred Angle (05/07/2013)
Latticed Heath (16/06/2013)
Ochreous Pug (10/06/2013)
VC110 Outer Hebrides (268 species from 32,851 records. Most recent record for county in database is 25/12/2015)

Brindled Pug (22/04/2015)
Satellite (09/10/2014)
Canary-shouldered Thorn (01/08/2014)
Least Black Arches (19/06/2014)
Spruce Carpet (19/06/2014)
Green Silver-lines (03/06/2014)
Broad-bordered White Underwing (13/05/2014)
Common Quaker (04/04/2014)
Juniper Carpet (28/09/2013)
Great Brocade (07/08/2013)
Common Footman (25/07/2013)
Marsh Oblique-barred (22/07/2013)
Nutmeg (20/07/2013)
November Moth (25/06/2013)
Pale Brindled Beauty (15/02/2013)
Brick (22/10/2012)
Triple-spotted Clay (09/08/2012)
Small Dusty Wave (08/08/2012)
Satin Beauty (20/07/2012)
Tawny-barred Angle (22/06/2012)
Red Twin-spot Carpet (27/05/2012)
Flame (23/05/2012)
Mottled Grey (01/03/2012)
VC111 Orkney (246 species from 25,761 records. Most recent record for county in database is 03/11/2015)

Welsh Wave (07/07/2014)
Peacock Moth (14/06/2014)
Least Black Arches (15/05/2014)
Spruce Carpet (21/10/2013)
Barred Umber (03/08/2013)
Lempke's Gold Spot (17/07/2013)
Dark Spectacle (04/06/2012)
Pine Beauty (27/03/2012)
VC112 Shetland (Zetland) (181 species from 10,765 records. Most recent record for county in database is 01/07/2016)

Bulrush Wainscot (04/09/2014)
Double Dart (04/08/2014)
Pinion-streaked Snout (05/08/2013)
Oblique Carpet (21/07/2012)